Customer Service
Monday to Friday 8 a.m. to 4 p.m.
For traffic information and issues that requires immediate attention, we are open all hours.
Geofencing entails the creation of geographical areas on a digital map and assign rules forvehicle properties in the area. The action plan are part of a government assignment where the goal is to develop geofencing.
The action plan is a result of the government assignment "Test and demonstration project using geofencing in urban environments" that was sealed with a handshake between Volvo Cars, AB Volvo, Scania, the City of Stockholm, the City of Gothenburg and the Swedish Transport Administration in the spring of 2017. Veoneer is also included in the project, as it is a key partner in this project.
The government assignment was given in connection with the terrorist attack on Drottninggatan in Stockholm in 2017.
A first step was to conduct geofencing demonstrations in 2018. The parties also assented to follow up the hand shake with a comprehensive action plan to enable the implementation of geofencing. The main purpose of the measures and R&I activities proposed in the plan is initially to develop geofencing systems that enable driver assistance that facilitates regulatory compliance primarily with regard to speed, urban environments (air and noise) and access to designated zones.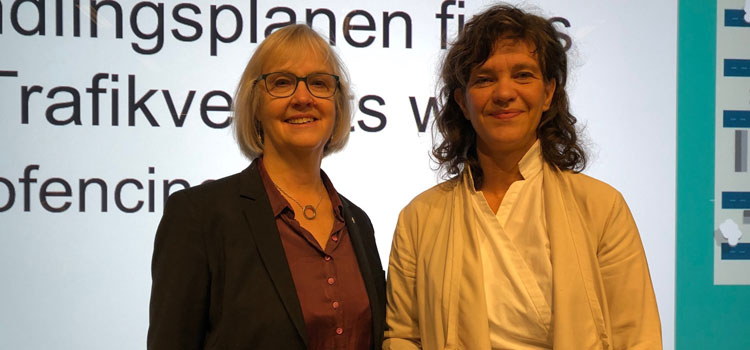 Lena Erixon, former Director-General and Maria Krafft, Director of Sustainability and Traffic safety, both from the Swedish Transport Administration, presented the action plan In Gotenburg December 2018. Photo: Isabella Winberg
Geofencing – digital control of connected vehicles
Geofencing entails the creation of geographical areas on a digital map and assign rules for vehicle properties in the area. For example, it is possible to designate that only authorized vehicles may be driven in the area, to guarantee that speeds are limited or to modify thevehicle's powertrain in a manner to ensure that it is only possible to drive the vehicle using electric power within the zone. However, this requires the vehicle to be connected. It also requires agreement between the authorities and automotive industry concerning regulations on limitations and opportunities in the geographical area, and the communication of applicable regulations.
Geofencing is considered one of many effective measures to create a safer and more sustainable urban environment. It also has the potential to impede terrorist attacks using road vehicles. However, several complementary measures are required in addition to geofencing to prevent terrorist attacks using vehicles.