Customer Service
Monday to Friday 8 a.m. to 4 p.m.
For traffic information and issues that requires immediate attention, we are open all hours.
In Hjärup, the station and track levels will be lowered 4 meters. This will reduce the noise level from the railway effectively.
In addition to the conversion of the station and the noise reduction measures, a wide station bridge will be constructed. The station bridge will be 28 meters wide and be built in the extended part of Stationsstigen. The bridge has room for pedestrians, cyclists and cars in a common area. Space for cycle parking areas, platform access routes and areas for station information facilities and ticket vending machines will be provided on the bridge. The station's access stairs from the bridge down to the platforms will be designed in the form of a large green clamp, which will give the bridge a unique shape.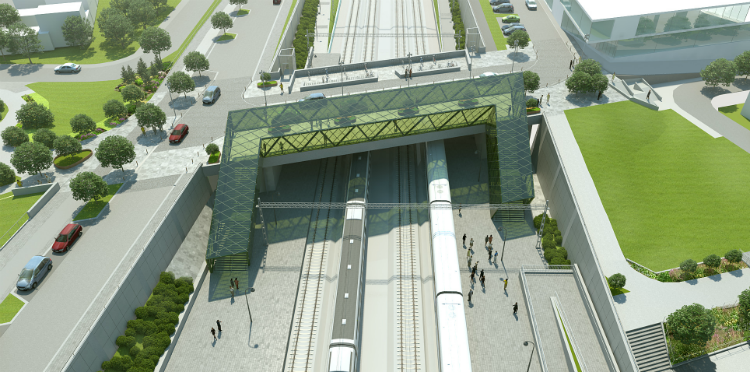 The bridge will be located 3.5-4 meters above its surroundings, which means that Banvallsvägen is raised for connection to the bridge. Four properties – three on the western side and one on the eastern side – will need to be removed. A number of buildings on Banvallsvägen will be affected when retaining walls are constructed on the property border.
The two intersecting roads, Lommavägen and Vragerupsvägen, will be changed and the two road tunnels under the railway will be converted into bridges over the railway. Owing to the alignment of the temporary tracks, parts of Banvallsvägen will have to be rerouted during the construction period.