How we will build the the double-track section
Customer Service
Monday to Friday 8 a.m. to 4 p.m.
For traffic information and issues that requires immediate attention, we are open all hours.
The work on the railway is ongoing. There will be a new track, new platforms and new bridges.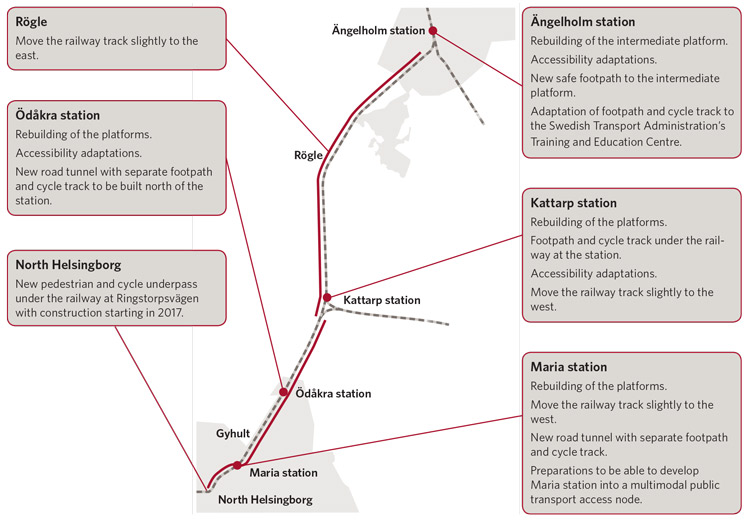 During the double-track Ängelholm-Maria we will convert a 24-km-long section of track between Ängelholm station and Maria to double track. The double track will be laid beside the existing track; in addition curves will be rectified in three places (see map below).
The stations at Kattarp, Ödåkra and Maria will be rebuilt, and there will also be changes to Ängelholm station. We will introduce noise-protection measures where we deem these to be necessary. Seven level crossings, used by vehicles, pedestrians and cyclists, will be closed and replaced with new grade-separated crossings. We will build 19 railway bridges and two road bridges.
The project in brief
Along the section of line between Maria and Ängelholm station there are a total of 20 intersecting roads, footpaths and cycle tracks that are affected by the railway. Of these 20 crossings, seven are level crossings. All the level crossings will be closed and replaced with grade-separated crossings. A total of 19 railway bridges (two over watercourses) and two road bridges will be built.
Curves will be rectified at Rögle, Kattarp and Gyhult.
Where the curves are to be rectified, new double track will be laid instead of single track.
The track geometry is dimensioned for a maximum operating speed of 250 kph. However, there are a number of sections where the maximum speed will be 200 kph.
20 new switches and crossings will be built, and new overhead contact lines and masts will be installed along the entire section.
Noise-protection measures comprising acoustic and noise barriers will be installed along approximately 11 kilometres of track.
Rebuilding work will take place at Ängelholm station where a new footbridge is set to link the platforms. Tracks and platforms will be rebuilt at the stations in Kattarp, Ödåkra and Maria.