Index model for regulating consultancy services and contracts
The Swedish Transport Administration applies a model for index regulation of consultancy services and contracts consisting of two parts - general regulation and specific regulation.
Specific regulation means that the employer covers price increases due to cost developments for the production resources that the contractor cannot reasonably influence. It applies only to selected resources, the price of which depends on world market prices and where the price is also an integral part of the contract sum.
The remaining part of the contract sum is regulated by a general regulation that corresponds to general cost developments in society.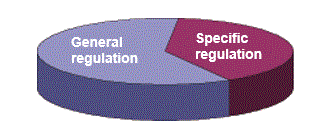 Specific regulation
Specific regulation is done with a known index for each resource, where definitions and measurement methods are determined and well established. Index regulation begins at the start of the contract and takes the month of the tender as the base month.
Specific regulation is used for:
Bitumen
fuel (diesel)
electric power (consumption)
reinforcing steel
commercial steel
railway-specific material
other project-unique resources.
Index regulation is done either against a set quantity or cost or against an estimated percentage of a limited part of the contract sum or unit price.
General regulation
General regulation is done on the part of the contract sum that is not subject to specific regulation.
It covers the work performed 24 months after the month of tender. An exception is contracts for the operation and maintenance of railways, where general regulation is applied after the first contract year. Index regulation takes the month of the tender as the base month. The NPI (net price index) is used for general regulation.