Why is a bypass needed? - E4 The Stockholm bypass Project
Customer Service Monday to Friday 8 a.m. to 4 p.m.For traffic information and issues that requires immediate attention, we are open all hours.
Tel: +46 (0)771 921 921
The County of Stockholm is growing. By 2030, the population of the Stockholm region is expected to have increased from 2 million today to roughly 2.5 million.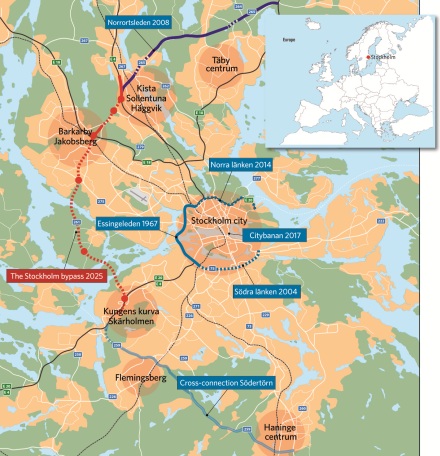 The Baltic region is estimated to have great international potential and the Stockholm region is extremely important, as a growth engine, to employment and growth throughout Sweden. If Stockholm is to be able to continue to develop, the region's infrastructure must work well.
In the years to come, big investments will be made in the infrastructure in Stockholm. A new railway (Citybanan) has been built through the central parts of Stockholm. It has double track capacity through the city. Citybanan opened for traffic in 2017.
The Norra länken project opened in 2014, it forms an inner ring road in Stockholm with the existing Essingeleden and Södra länken. With the existing Norrortsleden and the planned Cross-connection Södertörn, The Stockholm bypass will create an outer ring road.
To minimise vulnerability
Stockholm is divided by water. The Baltic Sea meets Lake Mälaren in the city. These waterways were very important when the city was founded in the 13th century and today they make Stockholm a beautiful capital city. However, they have also divided the region in two. There is currently only one major road link, Essingeleden and one major raillink between northern and southern Stockholm.
To relieve Essingeleden
Essingeleden was opened in 1967 and was designed for 80.000 vehicles a day. Traffic is now 160.000 vehicles on a normal working day. And the traffic volume is increasing. This makes Stockholm's transport system vulnerable and Essingeleden sensitive to traffic incidents. At the same time, the traffic volume means that the road is subject to serious wear, which results in a great need for repair. In addition to being perceived as a nuisance to individuals, congestion and queuing are costly from a socio-economic standpoint.
To improve communications
The Stockholm bypass will provide better communication between the southern and northern parts of the county, which is intended to improve the potential for integrated labour and housing markets. This way, Stockholm residents can make better use of the competitive advantages offered by a large and unified region.